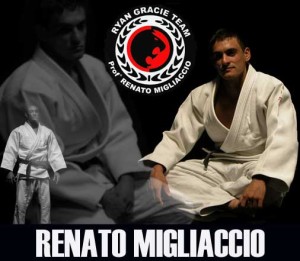 Born in Sao Paulo, Brazil is a 4th degree black belt in Brazilian Jiu jitsu under Master Ryan Gracie.
Professor Renato started training martial arts at a very young age. Judo was the first martial art he practiced when at 8 years old he took to the mats.
Professor Renato has been teaching since the age of fifteen and also has Jiu Jitsu students spread throughout the World which he visits twice a year in Europe, America, Canada and Mexico. He is one of the most well rounded BJJ Professors having experience in judo, wrestling greco roman and freestyle, no gi BJJ, boxing and MMA.
Professor Renato Migliaccio is also a graduate of the top university in Brazil, USP (University of Sao Paulo) where he earned a bachelors degree in Sports Science.
It was in the city Ribeirao Preto that Renato Migliaccio would experiment with Jiu Jitsu for the first time. The academy was run by the famous Roberto "Gordo" Correa, but as Renato was moving to the main city of Sao Paulo Correa suggested that Renato train at Ryan Gracie's academy there. When Renato arrived at the state capital he followed the advice, and there he stayed, training throughout the ranks, from white belt to black belt under Master Ryan.
After receiving his black belt in Jiu jitsu Professor Renato earned titles at the National, Pan American, European and World Championships! Professor Renato was even a member of the Brazilian National Judo college team and Greco-Roman Wrestling team. He competed in many international events Judo and Wrestling and the Abu Dhabi No Gi worlds.
Professor Renato Migliaccio left Brazil in 2003 to seek new challenges, during this period he visited many countries giving seminars and competing, mainly in Europe and North America. It was during this period that he started his pro MMA career, and now he has a record of 6-1 as a professional, including being on team USA in the M1 Challenge as the lightweight representative.
Renato Migliaccio in Detail:
Nickname: Renatinho means "little Renato", the name was given because at Ryan Gracie's gym there were very few featherweights.
Lineage: Mitsuyo Maeda > Carlos Gracie Sr. > Carlos Gracie Junior > Ryan Gracie > Renato Migliaccio
Main Achievements:
Weight Division: Peso Pena/ Featherweight and Lightweight (66kg/145 and 70kg/154lbs)
M-1 global USA Team member (mma) – 2nd place at the world championship (2009);

World Champion (2002 – Gracie Barra finished all of the last 4 places in the division, and the tittle was given to the 4 members of the team);

European Champion (2005);

Pan American Champion (2003);

Brazilian Champion (2002);

World Championship (1999) second place.

5x Sao Paulo State Champion; ADCC Brazilian Trials Winner;

Judo Brazilian Nationals College Champion (1999);

ADCC worlds veteran (2007);

Greco Roman Brazilian Nationals Champion (2005/2006);

USA Southwest Judo Champion (2004);

Connecticut state Judo Champion (2008);
Links:
http://en.wikipedia.org/wiki/Renato_Migliaccio
http://www.bjjheroes.com/bjj-fighters/renato-migliaccio

http://fighttv.com.br/dados_entrevistas_clicou.php?id=19
http://fiveouncesofpain.com/2009/10/18/renato-migliaccio-respect-is-everything-in-bjj
http://www.m-1global.com/2009/06/17/renato-migliaccio
http://uscombatsports.com/index.php?option=com_flexicontent&view=items&cid=148&id=7440